Testimonials from Our Students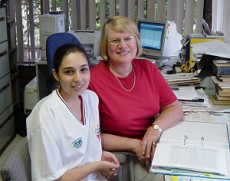 Dr Pam Bagworth is the Principal of ACADEMIC TASK FORCE.
"I have over 30 years experience helping students achieve excellent results."
Since we started Revision courses in 1986 enthusiastic feed back from students, parents and teachers tells us that our courses fill a real need and that students achieve great results.
Excellent results were achieved by students who attended ACADEMIC TASK FORCE WACE REVISION COURSES in 2010, 2011 and 2012:
2010 Beazley Medal Winner
37 General Exhibitions
25 Course Exhibitions
138 Certificates of Distinction
436 Certificates of Excellence/Commendation

Our courses help all students whether they are high flyers or strugglers. A majority of our students report a dramatic boost to their confidence and achievements as a result of attending ACADEMIC TASK FORCE courses.
Our students say:
"The small groups mean that classes are productive and friendly. I particularly liked the way teachers took time to see if I understood properly." (Kelly, Duncraig)
"I have gained great direction, better focus, more confidence." (Tom, Willetton)
"I now have a greater understanding of the subject and a more positive attitude towards tackling questions not previously understood." (Sasha, Claremont)
"A great boost to my exam performance." (Ali, Ballajura)

"Hi Megan
Just some feedback from Shraya. She really enjoyed her first day of the session. She was very skeptical before attending your classes but now feels that it will be very good for her.
She loved the way the instructor taught the subject and is looking forward to attending the rest of the sessions. She also wants to continue through the year. So I will be calling you to enrol her in English and Maths as well. Regards Shekher"


"I just want to thank you and your team of staff/teachers for the great job you do in providing these courses to year 12 students.
Rebecca felt she benefited from the 3 subjects she did last week. I imagine she will feel the benefits more fully when she is back at school this term. Regards Christine 15th July 2014"